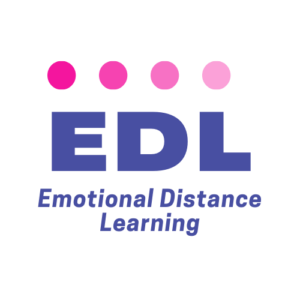 EDL – Emotional Distance Learning. Emotional management to support the social and individual challenges of distance learning
The effects of the Covid 19 pandemic, the confinement, the suspension of face-to-face training activities, as well as the various security and social distancing measures have definitively established e-learning as a key element in the education and training industry. Whether at school, higher education or adult education level, distance learning is here to stay, with its advantages and disadvantages. In fact, although this was already a clear upward trend, companies, organisations and public or private institutions have reinforced their commitment to e-learning. In addition to being adapted to health conditions (which can be a possible eventuality), e-learning has shown some of its enormous advantages, as it universalises and democratizes knowledge and access to the sources of knowledge. Therefore, e-learning is an essential element to avoid a gap in adult education, generating inequality of opportunities and social and economic fracture between different sectors of the population. But, as we have seen in recent months, there are also counteracting factors that affect not only learners but also trainers. Some of these are inherent to online learning, such as the struggle with isolation, loneliness, lack of personal interaction or the need to find intrinsic motivation.
The vision we have for EDL is to transfer to online adult education the enormous amount of literature and research that has been described over the last year on the need to implement emotional management tools in school education. Thus, in the face of the unstoppable trend of e-learning in adult education, we would improve not only the quality and impact of teaching, but also the mastery of emotional, social and human competences of both trainers and learners. EDL aims to develop a training programme for facilitators and students to learn how to manage the flood of emotions generated by online training in an appropriate and operative way. The main goal of EDL is to generate a positive impact on the mass of European trainers and trainees in the online training industry, improving the management of this situation, which in most cases is anomalous and has been forced in recent months. In this sense, EDL will pay special attention to both intrapersonal management aspects (stress, anxiety, uncertainty, sleep problems) and interpersonal aspects (social, family and couple relationships, loneliness).
Participating Organisations: 
HOCHSCHULE WISMAR (Germany)
INDEPCIE SCA (Spain)
Skill Up Srl (Italy)
Eurospeak Limited (Ireland)
Babel Idioma y Cultura SL (Spain)
Akadimos KEK (Greece)
EDL target groups:
Direct target groups:
Trainers,
Learners and
Facilitators of online adult education
 Indirect target groups:
Companies which train adult organisations
National policymakers and accreditation bodies
Networks and clusters extant in the industry
Specific project objectives 
To raise awareness of the mental and emotional effects of online training.
To take on board the need to emotionally manage the effects of online training.
To understand the implications of online training from both a personal and social point of view – In relation to the previous point, to understand the intra- and interpersonal areas of emotional intelligence.
To know the points of improvement of emotional intelligence applied to the formative process.
To improve professional/family conciliation.
Stay tuned for more EDL news!
Read the latest news about the project here.

Switch on
Introduction to the project
"SWITCH ON", is a comprehensive educational program that addresses the problem of social and professional exclusion among Europeans aged 55+ in today's labor market. The main objective of the partnership is to increase the professional capacity of trainers and HR professionals working with people 55+
To achieve this goal, the international partnership will develop a comprehensive educational program and innovative materials that support the development, integration and well-being of people aged 55+ in their workplace. Additionally, in order to make sure that the materials developed by the partnership are proven in practice, we will conduct a series of 40 evaluation workshops (10 in each partner country).
Target groups:
Trainers Leaders HR Professionals
Employees Ages 55+
Employees working with person 55+
The project will develop an E-COURSEBOOK compendium of knowledge for trainers and HR professionals working with people aged 55+. The E-COURSEBOOK, will consist of three modules. MODULE A. guidance in coaching, MODULE B. 30 workshop scenarios, MODULE C. case study. Over the course of the project, the partnership will also develop 60 coaching cards included in the POWER BOX, as well as an E-GAME ROOM – a free platform for self-creation of team-building quizzes.
Partner organizations
Spread Your Wings Team
VIOne Consulting
INDEPCIE
Akadimos
Read the latest news about the project here.
Read the informative flyer of the Switch On project here